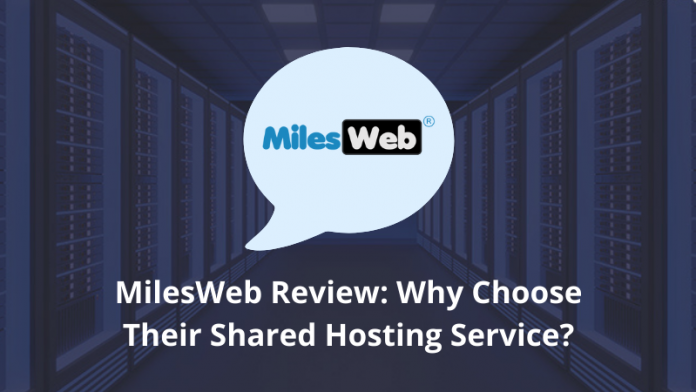 If you have an interesting idea to start a business, you must know that websites help enterprises reach more growth than traditional methods.
The internet connects every customer to businesses and every business to customers. No venture is entirely offline as they know the value internet/digital presence provides
However, for websites to go digital, you need hosting services. But, one hosting type cannot suit all kinds of businesses. That is why there are types of hosting services meant for different kinds of websites.
The type of services are as follow –
Shared hosting
VPS hosting
Reseller hosting
Dedicated server hosting
Cloud hosting
We are going to talk about shared hosting and its working processes.
As you are a beginner, a shared server is the perfect hosting service for you. We would also recommend you the best and affordable shared hosting provider, i.e. MilesWeb. MilesWeb provides best-in-class low-cost web hosting services.
With the perfect choice of hosting service and provider, your website will provide a good user experience.
What is Web Hosting?
Web hosting means publishing your website online. Without a hosting service, you will not be able to make it available for surfing. It won't exist and will not have any presence.
If you want people to browse your website, shop from the online store or read your blogs/articles, hosting is essential.
The different types of hosting services are for websites with varied needs. For example, a good traffic website may need a VPS or dedicated server.
For beginners, shared hosting is the correct hosting server. New websites do not have many requirements. The resources allotted to the websites are sufficient. Instead of wasting resources on expensive hosting, shared hosting is perfect.
What is a Shared Hosting Service?
A shared hosting service is a hosting service that stores all web contents on the webserver. The web host provides a single shared hosting to many users like you.
All users share the same server and its resources. The cost of the hosting is distributed among the users, so it costs less. You don't make the highest investment in shared hosting as it is affordable.
MilesWeb offers shared hosting at an even cheaper price than other web hosting providers.
Their motive to make the service accessible to every user is consistent. You don't need to worry about quality as well as they provide the best quality shared hosting services.
MilesWeb has worked for over 30,000 customers worldwide and is still actively contributing to thousands of businesses every day.
Why Should I opt for MilesWeb Shared Hosting Services?
Choosing or not is an option. As per our experience, we found MilesWeb a lot better than many hosting companies. Their services are apt, reasonable and they have an expert team to provide 24/7 assistance to users. They provide both shared hosting options – Linux and windows website hosting.
MilesWeb offers different plans under shared hosting services. These plans are created for catering to different websites' needs. Like for an entry-level website, Solo is the right shared hosting plan.
You will get enough resources to run a smooth website.
The solo plan is only for Rs.40/m. The cost applies after an 80% discount. The user must make a purchase of 3 years to avail of the offer.
Similarly, Prime and Multi plans are for medium-sized businesses. With a Multi plan, you can host many small websites. You can even host your customers' websites and earn a living from them.
If you are a developer, renting your hosting to customers will help you enjoy a side hustle.
How Long Does it Take to Host with MilesWeb?
Once you purchase the shared hosting plan of your choice and complete the registration process, MilesWeb sets up the account immediately.
Can MilesWeb Help Develop My Website?
MilesWeb is an exclusive hosting solution provider. It offers many hosting services. But, it does have a website builder tool to create websites.
When you select one shared hosting plan, you get a free site builder tool. It offers thousands of free templates to choose from and use for creating a beautiful website.
The website builder is also easy to use. You can use its drag and drop functions to build a customized website.
Is MilesWeb Safe for Hosting My Website?
Absolutely! MilesWeb is highly reliable and will provide the best support. It pledges to offer 99.95% uptime with shared hosting services.
The team will help your website stay available every time.
What More Can I Get with MilesWeb?
A free domain
Free SSL certificate
24/7 customer support
Unlimited bandwidth
30 days money-back guarantee
Email accounts
Control Panel
1-Click Installer
Cache manager
Backups
WordPress optimized
If I am Hosting with Another Host, How do I Move to MilesWeb?
MilesWeb helps users with the migration process. You don't need to worry about that. You need to reach the support team via chat or email, and they will migrate your website from the previous host to MilesWeb.
You will have to provide the team with the login credentials of the previous hosting account.
Sum Up
MilesWeb is one of the best web hosting providers in India. You can rely on their team for quality services. From the different types of hosting services, shared hosting works best for beginners.
You will get it at a low cost from MilesWeb. I am speaking from a personal experience so you can trust them.