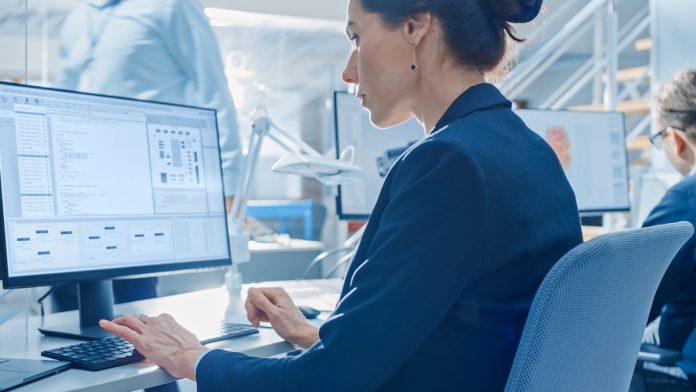 Cloud computing blends perfectly with the modern business world… but who are the technicians that make it all work?
No business truly works nowadays without the addition of an online storefront.. Your website should say everything customers need to know about your business. While shops trade 9-5 like always, this second marketplace in the virtual world can earn your business money, even while you sleep.
Cloud computing – the ability to transfer, interact with, and safely store data online – is the answer to 24 hour trading for the tech savvy company. Behind those techniques and trends lies the people who constructed it all. The architects, engineers, and developers, who designed the system which makes your internet work.
Cloud computing is integral to the modern business.
Finding Cloud Computing Jobs right now is a great way to plan for a long, hearty career with the potential for impressive profits. This method of using communications technology has become so integral to the business world that we are using it daily without perhaps even realising it.
Cloud computing refers to the on-demand resources we have at our fingertips through use of the internet. For business owners, this means using downloadable apps like QuickBooks to help you run your business. It means the potential to outsource data so you don't need onsite data towers and server space in your office. It means hosted servers and transmitting information. Since this covers everything from filling in a spreadsheet stored on Drive to sending that document through email. As such, there are thousands of career making jobs opening up as we speak.
Top Careers in Cloud Computing
Here are the leading careers in cloud computing that might help you make your fortune in the not-so-distant future. It's never too late to start applying for better paid rolls in IT, or to go back to college to learn the skills for a future in this sector.
Cloud Consultants
Let's start with a reasonably vague job title in the cloud computing world. A cloud consultant can be a freelance worker who strictly offers firms advice on cloud products. They may give you better ways to piece together your infrastructure, suggest IT strategies to make your applications work smoothly, or even guide you through setting up new cloud products. They might operate as part of a larger IT firm. Cloud Consultation work pays well. In the UK, you could average £66k a year.
Cloud Architects
At the other end of the spectrum, you have the Cloud Architect. These are the wizards who put together the structure of the platform your company will use to create a website, get online, and can even create tailored platforms which contain the software specific to the running of your company on your behalf. They design this virtual structure, then they execute their plans. The starting salary for an entry level cloud architect position is nearly £40k. The top paying positions pay over £100k a year.
Cloud Engineers
Cloud Engineers help to spot system problems and develop solutions for these problems. Through the virtualisation process, cloud engineers can create a full imitation virtual system which echoes your own. By running various scenarios through the system they create virtually, they can anticipate and solve problems before they ever happen in real life. They offer design, planning, and maintenance support.
Cyber Security
Cloud based cyber security services are on the rise. Data breaches cost companies millions in the UK each year. Statista suggests the average cost of a breach for UK companies was £1,200. As the size of the business increases, so does the cost. Cloud cyber security engineers, technicians, and software developers will all play a major role in the future of the virtual marketplace. If you start training now, you could be in on that scene.
The Front End Developer
This is a complex role in cloud computing which sees the responsible employee writing websites or apps using codes. The front end developer creates all of the elements of style and design which you see when you land on a website. They work with CSS, Java and JavaScript, HTML, and other computing languages. If you have a brain for numbers and you like cracking codes, a career as a front end developer might be exactly the role for you.
And finally…
You may need to learn the skills to fulfil your company's tech jobs online. See I Tech Book's previous article for further help on filling positions that bridge that digital skills gap. Follow our advice and every company will be headhunting you in a year or two.